COMPUTING, INTEGRATING THE DISTRIBUTED WORLDS
32nd Annual IEEE International Computer Software and Applications Conference




Turku, Finland, July 28 - August 1, 2008
dddddddddddCo-located with IPSJ/IEEE SAINT 2008
For Venue, Social Programs, How to Get To Turku, etc., please refer to the following link
http://www.tucs.fi/compsac_saint2008/

Basically, there are many ways to book your air tickets. But special thanks to Brendon McQueen from University of Technology Sydney, who kindly provided a great non-profit initiative he found:


Thanks Brendon !

Main Accommodation - Radisson SAS Marina Palace Hotel
---
Basic Information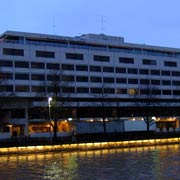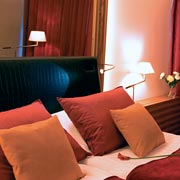 The Radisson SAS Marina Palace Hotel is located in Turku, right on the banks of the Aura River, in the heart of the city.
The bus and train stations are just a 15-minute walk from the hotel.
Turku airport is 9 kilometres from the hotel.
184 stylish rooms.
Wireless and High-Speed Internet Access is available throughout the hotel.
Three saunas, one of which for private use only.
Fully-equipped gym and beauty saloon.
The street-level restaurant Aurora offers Italian delicacies and the best steaks in the city.
The elegant fireplace room and lobby bar are ideal to relax in with a drink.
Parking space available outdoors and in the heated parking garage (as of April 2006).
Eight fully-equipped meeting rooms, the largest of which can accommodate 500 guests for a cocktail party.
---
Makre Sure to Ask for
Radisson's Special Rate for IEEE COMPSAC/SAINT2008
| | | |
| --- | --- | --- |
| | Single Room/Night | Double Room/Night |
| Standard Guest Room | 115€ (140€) | 135€ (160€) |
| Superior Guest Room | 135€ (165€) | 150€ (185€) |
---
Additonal Accommondations

Please be aware that there are a lot of Hotels in Turku, please refer to the following web site in case you want to find other interesting hotel accommodations:


The joint COMPSAC/SAINT Conferences will be hosted by Turku Center for Computer Science (TUCS) and held inside the University of Turku campus. If you are international participants, this might be a helpful link to get familiar with the city as well as the conference venue geography. A multi-lingual link to help locate University of Turku campus.