For your convenience, we provide the following information to assist with travel planning. Attendees of the CSEE&T 2014 can easily reach Klagenfurt by airplane, train & car or by a combination of these options.

Take a look at the map below to see the different combination possibilities and distances from other airports: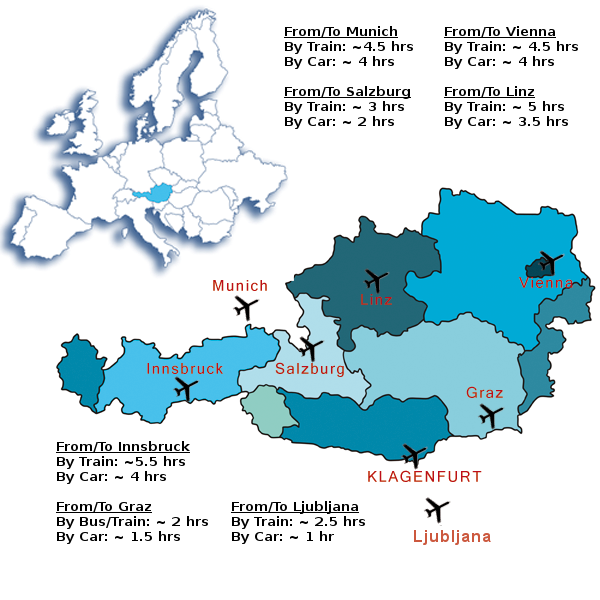 By Airplane
Klagenfurt airport (airport code: KLU) is easily accessible from the major airport Vienna. Regular flights between Vienna and Klagenfurt are offered several times a day. Star Alliance partners such as Lufthansa and Austrian Airlines operate numerous flight from many parts of the world via their Frankfurt, Munich or Vienna hubs. You can also download an English version of the summer flight schedule 2014.

From several parts of Europe (Amsterdam, Oslo, London) Austrian Airlines operates flights to Ljubljana (Slovenia) via Vienna. SMS offers an airport shuttle from several destinations to Klagenfurt:
Munich - Klagenfurt: 128 EUR / person (236 both directions)
Graz - Klagenfurt: 58 EUR / person (97 both directions)
Ljubljana - Klagenfurt: 48 EUR / person (76 both directions)
Vienna - Klagenfurt: 84 EUR / person (148 both directions)
Hint 1: a group transfer (max. 8 persons) is possible. The costs are then for Munich: 620 EUR (1220 EUR), Graz: 210 EUR (400), Ljubljana: 140 EUR (260 EUR), Vienna 470 EUR (920 EUR).

Hint 2: When booking via mail you should mention the pass-phrase "AAU-CSEET" to get an additional 10 percent discount.

Klagenfurt Airport also has cooperation with the low-cost carrier Germanwings. Cologne/Bonn, Hamburg, and Berlin are offered several times per week. Many additional low-cost carriers operate flights to Klagenfurt and destinations in the vicinity of Carinthia (Graz, Salzburg, Trieste and Ljubljana are all within less than two to three hours drive).



Car Rental

Moving around by car might be a great option when also doing sight-seeing in Austria and the neighboring countries. The Central Eastern Alps, also referred to as Austrian Central Alps comprise the main chain of the Eastern Alps in Austria and are covered by snow during winter. However, in April all the roads should be free of snow and ice (obligatory fitting winter tyres on the car officially ends April 15th 2014). All the main cities are reachable via (excellently serviced) motorways and tunnels (some of them with tolls) and the network of petrol stations is dense.

You can get a compact car at the airport of Klagenfurt for three days for around 140 EUR. Other offers (and other locations) can be found when looking at the website of rentalcars.com. A compact car at Vienna (airport) from Mon. 21st April to Sun 27th April 2014 is at around 350 EUR (automatic transmission, 170 EUR without automatic transmission).

Update:The car rental company Sixt is now offering a discount for people visiting the conference (10% off their car rental) with this link here. The closest Sixt location to the conference is at Klagenfurt Airport and you can find more information about Sixt there here.

By Train/Bus

The train station "Klagenfurt Hauptbahnhof" is located in the heart of Klagenfurt. For Austria, use the Austrian Online Ticket Service (OEBB) to conveniently book through the Internet or get the latest timetable. For Germany, use the homepage of the Deutsche Bahn (DB).

An example: a train ticket from Vienna (WIEN) to Klagenfurt (21.04.2014, 14:30 dep, 18:21 arr) would be 24 EUR in one direction (34 EUR first class) when booking online early enough. Standard price would be 50 EUR (same price when sold over the counter).



Moving around in Klagenfurt

The best way to move around in Klagenfurt is by bus or by bike. The public transport operator (STW) operates buses from the train station, the airport, the University and the city center between 6am to midnight on a 20-30 min. schedule. A single ticket (buy it at the bus driver) is 2 EUR (valid for 60 min. in the whole network, transfer allowed), you get a 24 hour ticket for 4.50 EUR, and a 7 day-ticket for 14 EUR.

You can rent a city-bike at the University (at the restaurant "Uniwirt") for 11 EUR a day, 45 EUR a week. However, please be prepared for changing weather conditions. In Austria there is the saying "April, April, der macht was er will!" (April does what it likes) ... meaning that in April the weather can change from Winter to Summer and back within a couple of minutes.

There are several taxi companies in Klagenfurt. Prices may vary a bit depending on the traffic situation, but a ride from the Airport to the University should be around or less than 15 EUR during the day.


---
Google Maps (Conference and Airport Locations)