IEEE International Conference on E-Business Engineering (ICEBE) 2023
Premier IEEE conference on E-Business Engineering
13 August
27 August 2023
Full Paper Due
15 September
20 September 2023
Notification of Acceptance
24 September
6 October 2023
Camera Ready
24 September
6 October 2023
Registration Due
News and Updates
20 September 2023
The conference venue information is available.
The registration system is available.
The IEEE author paper submission site is available.
The notifications have been sent. If authors have not received it, please contact o.hussain@adfa.edu.au
27 August 2023
The submission link for the "Submit Abstracts/Papers" button was set incorrectly to the IEEE CPS system for ICEBE 2022. If you have submitted your paper to the incorrect system, please re-submit your paper to https://easychair.org/my/conference?conf=icebe23. Sorry for the mistake and any inconvenience caused.
20 August 2023
Due to multiple requests, the abstract/paper submission deadline is extended to 27 August 2023.
7 August 2023
Prof. Jie Lu and Prof. Jie Xu are the keynote speakers of ICEBE 2023. Please refer to the program page.
28 June 2023
The SOCA journal achieved a notable Impact Factor (IF) in the recently released annual report: Total Cites are 325, Journal Impact Factor 2022 is 1.3, and 5-Year Impact Factor 2022 is 1.8. Welcome to submit your ICEBE 2023 papers to the SOCA SI.
22 June 2023
The paper submission link on EasyChair is available.
1 March 2023
Special Issues (SOCA and FGCS) are announced.
18 December 2022
ICEBE 2023 website is online.
Call for Papers
The IEEE International Conference on e-Business Engineering (ICEBE) is a prestigious conference, and a flagship event co-sponsored by IEEE Technical Committee on Business Informatics and Systems (TCBIS, formerly known as TC on Electronic Commerce), and the National Engineering Laboratory for E-Commerce Technologies (NELECT). Since 2003, ICEBE has been provided as a high-quality international forum for researchers, engineers and business specialists to exchange the cutting-edge ideas, findings and experiences of e-business.
New IT breakthrough always brings the evolution of e-business in wide spectrum, e.g. innovative business model, new marketing and sales channel, rapid sense-and-response, etc. How to adapt the changing computing paradigm and adopt new IT technologies for keeping competitive is a great challenge for modern enterprises. Based on the essential complexities in e-business, ICEBE 2023 invites an extensive coverage of system, software, service, business, combinations of the aforementioned, etc. to address related issues and promote research opportunities.
All of the accepted and presented papers in the conference will be included in the conference proceedings published by IEEE Computer Society. The proceedings will be submitted for inclusion in the IEEE Xplore Digital Library and will also be submitted to EI and INSPEC for indexing. The best quality papers presented in the conference will be selected for journal special issues by creating an extended version.
We invite submissions of high quality papers describing fully developed results or on-going foundational and applied work on the various tracks.
Paper Formats (For Authors)
IEEE ICEBE 2023 uses IEEE manuscript templates for conference proceedings.
IEEE Templates
Full papers must not exceed 8 pages, using IEEE two-column template. All papers should be in Adobe portable document format (PDF) format. Authors should submit their paper via electronic submission system. All papers selected for this conference are peer-reviewed. Submissions must not be published or submitted for another conference.
Agent
Agent-mediated e-commerce systems
Agent-based artificial markets
Trading, negotiation, auction and mechanism design
Collective decision making and coordination for e-Business
Trust and reputation in online agent systems
Personal agents and recommender systems
Agent based web mining, text mining and information retrieval
Agent or actor oriented analysis in social networks
Big data
Data and knowledge engineering for e-business
Workflow and business process tools and management for e-business
Semantic Web, Web 2.0, and business intelligence
Stream processing, complex event processing and continuous queries
E-business marketing, data mining, and relationship management
Machine learning, cybernetics, and agents for e-business services management
Knowledge management and e-learning
Big data and super computing
Big data analytics for e-business
Super computing and simulation of e-business
Applications of super computing
Internet of Things
Legal perspectives in IoT-based business service
IoS (Internet of Services) plus IoT
New business models and value map
Auto-organization on context, exchange or supply chain
Architectures and platforms of IoT applications
Machine learning and Evolutionary Computing for IoT applications
Edging/Cloud Computing for Smart IoT
Smart manufacturing and Industrial IoT
Smart cities and internet of vehicles
Control and decision making for smart IoT
Security and privacy for smart IoT
Mobile and Autonomous Computing
Mobile and pervasive methods, applications and integrated solutions
Sensor systems and RFID applications
Ubiquitous content access
Context awareness and smart environments
Resource discovery of mobile services
3G technology and services for e-business
Social networks and social behavior modeling in mobile commerce
Security, Privacy, and Blockchain
Security, privacy and trust methods and solutions for enabling e-business
Open source technologies and components for e-business
Open source version management
Authentication in e-business
Blockchain security models
Blockchain architectures for efficient processing
Service-Oriented and Cloud
Service process modeling
Service quality assurance
Service design methodology
Service composition, optimisation
Service QoS optimisation
Service security
Service requirement collection, specification, and analysis
Data- and computation-intensive services
XaaS (X as a service including Iaas, PaaS, SaaS)
Infrastructure as a Service, Platform as a Service, Application as a Service
Extreme scalability, high availability, elasticity, and reliability in a cloud
Multi-tenancy, security and privacy in clouds
Programming models and transaction models for the cloud
Cloud business support services and operational support
Software Engineering
Design methods, tools and science for e-business
Models, platforms and applications for e-businessT
Components, services and solutions for e-business
Aspects of green business and green commerce
Cloud and mobile software engineering
Service-oriented software engineering
Ecommerce Trading Technologies
Online credit and reputation evaluation
Electronic contract
Electronic invoice
Internet Finance/Manufacturing/Farm
Ecommerce services and infrastructure
Monitoring and supporting services for Ecommerce
Ecommerce laws and standards
Applications of blockchain
Diversity, Accessibility, Inclusivity
Diversity: Technology Acceptance, Technology Adoption, Technology Discrimination
Inclusivity: Design for All, Inclusive by Design, Universal Design, Inclusive E-Business
Accessibility: Assistive Technology, Accessible Design, User Experience (UX), Web and E-Business Accessibility
Human Centred Design for E-Business: Design solutions, Heuristics, Participatory design, Privacy and security
Application Areas: Mobile Commerce, Ambient Assisted Living, Smart Systems, Telehealth
Industrial Case Studies: Education, Health, Manufacturing
Industry Track: Deliver the Intelligent Enterprise
Analytics with Big Data
Enterprise usage with Machine Learning
Industry 4.0 and Smart Manufacturing
Internet of Things
Trusted and traceable network with Blockchain
Special Session: Digital Games as Socio-Technical Systems
Games as e-business and games as a service
Games for education/vocational training/medical therapy
Games for entertainment
Games as internet of things
Games as audio-visual systems
Game balancing
Game development as a creative process
Special Track: UASACT-Intelligent Systems
Autonomous Flight and Navigation
Mission Execution and Collaboration
Remote Operation and Monitoring
Drone Ethics and Legal Considerations
Environmental Protection and Ecological Impact
Education and Outreach
Security and Defense
Drone Design and Optimization
Artificial Intelligence Medical
Jen-Yao Chung
General Chair
Inventec Corporation (Taiwan)
Farookh Khadeer Hussain
General Chair
University of Technology Sydney (Australia)
Kuo-Ming Chao
General Chair
Bournemouth University (UK)
Yinsheng Li
General Vice-Chair
Fudan University (China)
Feng Tian
General Vice-Chair
Xi'An Jiaotong University (China)
Hongming Cai
General Vice-Chair
Shanghai Jiao Tong University (China)
Omar Hussain
Programme Chair
University of New South Wales (Australia)
Qingyao Wu
Programme Chair
South China University of Technology (China)
Shang-Pin Ma
Programme Vice-Chair
National Taiwan Ocean University (Taiwan)
Registration
Important Date
Paper authors SHOULD register before or on October 6, 2023. Early bird rate for general participant is applicable for registration before or on October 6, 2023.
Registration Fee
(The actual fee may be slightly different from the list below due to exchange rate)
Author Registration
Type
Before or on October 6, 2023
IEEE Member
AUD$770 including GST
Non-IEEE Member
AUD$924 including GST
One Extra Page
AUD$165 including GST
Two Extra Pages
AUD$330 including GST
Participant Registration
Type
Advanced (before or on October 6, 2023)
Regular (after October 6, 2023)
IEEE Member
AUD$770 including GST
TBD
Non-IEEE Member
AUD$924 including GST
TBD
General Registration Guidelines
Author must complete the registration by October 6, 2023. Otherwise, the author's paper will NOT be included in the conference proceedings.
General participants must complete the registration by October 6, 2023, in order to qualify for the early registration rate.
Accepted papers must have at least one author registration. There is no student rate for author registration.
Author registering for N papers needs to pay N x registration fees.
For ICEBE 2023, the length of a long paper should not exceed 8 pages (IEEE format), and the length of a normal paper should not exceed 6 pages (IEEE format).
Extra pages are charged AUD$165 per page (including GST). A maximum of two extra pages is allowed for each paper.
Conference registration includes admission to the conference, proceedings, coffee breaks, lunches, and banquet.
The conference has 2 special issues to include the extended quality submissions. Your paper will not be considered or recommended for the SIs if it were not presented in the conference.
The conference will take place at the Kensington campus of UNSW Sydney.
Member Discounts
To qualify for the discounted IEEE member rate, you must be a member of IEEE or the IEEE Computer Society. Please include your membership number(s) in the registration form.
Non-IEEE members can save immediately by applying online now for IEEE membership or IEEE Computer Society membership.
Questions
Questions about the registration form or the registration process should be directed to o.hussain@adfa.edu.au Please include "ICEBE 2023 registration" in the subject line.
Cancellations and Substitutions
Cancellations and substitutions are allowed. However, full registration fees will be charged unless a cancellation notice is sent in writing, and received on or before October 6, 2023 to the o.hussain@adfa.edu.au. All the registrations for published papers in the Proceedings of IEEE ICEBE 2023 cannot be cancelled.
Venue
The conference location is John Niland Scientia Building (G19) of the Kensington Campus of UNSW Sydney. UNSW Sydney's main campus is in Kensington. It is a busy, thriving community of 60,000 students and 6,000 staff, the size of a small town. This campus is located in Sydney's eastern suburbs, just 12km from the Sydney CBD.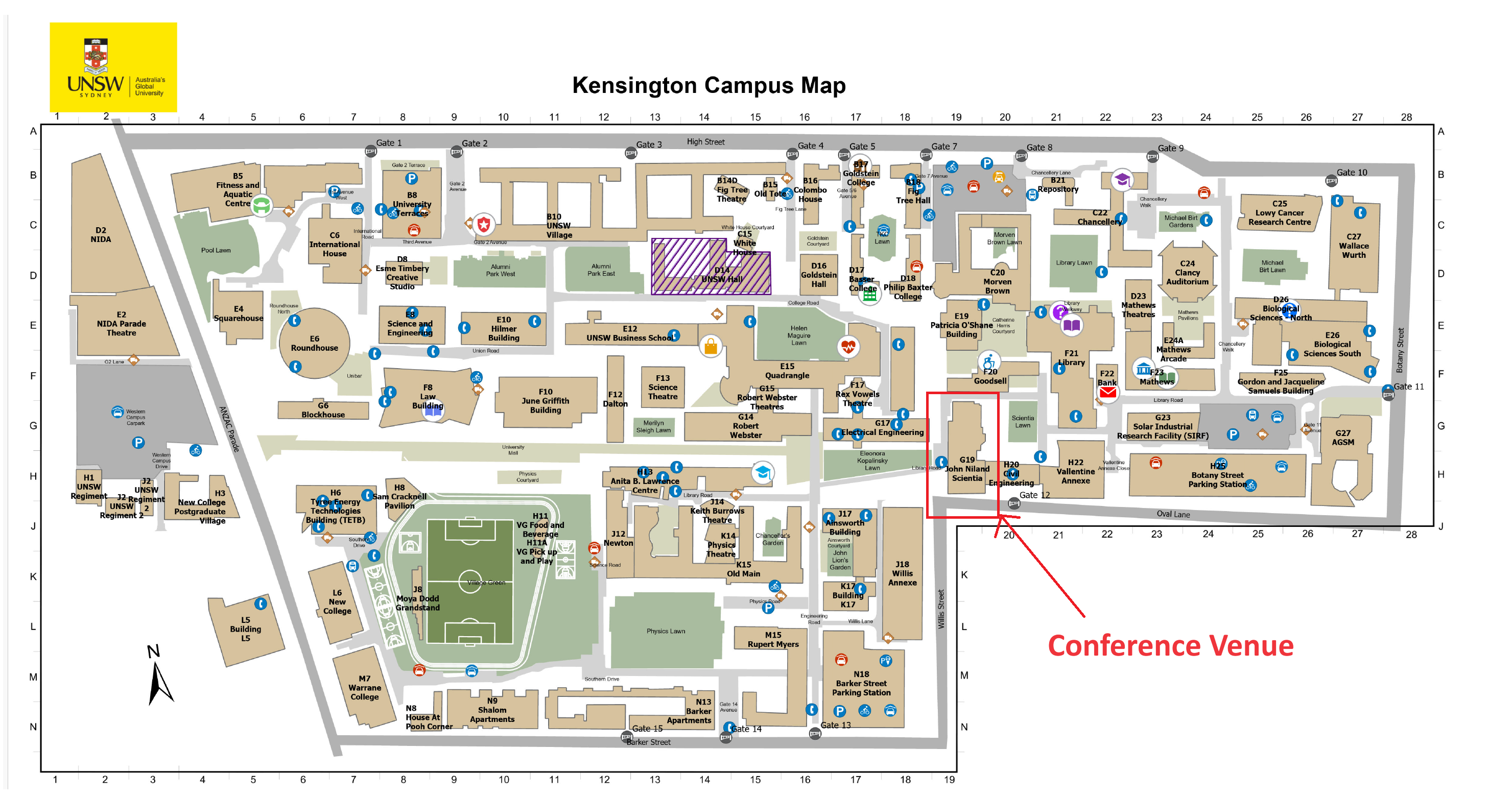 Accommodations
Statements
IEEE Computer Society Open Conference Statement
Equity, Diversity, and Inclusion are central to the goals of the IEEE Computer Society and all of its conferences. Equity at its heart is about removing barriers, biases, and obstacles that impede equal access and opportunity to succeed. Diversity is fundamentally about valuing human differences and recognizing diverse talents. Inclusion is the active engagement of Diversity and Equity.
A goal of the IEEE Computer Society is to foster an environment in which all individuals are entitled to participate in any IEEE Computer Society activity free of discrimination. For this reason, the IEEE Computer Society is firmly committed to team compositions in all sponsored activities, including but not limited to, technical committees, steering committees, conference organizations, standards committees, and ad hoc committees that display Equity, Diversity, and Inclusion.
IEEE Computer Society meetings, conferences and workshops must provide a welcoming, open and safe environment, that embraces the value of every person, regardless of race, color, sex, sexual orientation, gender identity or expression, age, marital status, religion, national origin, ancestry, or disability. All individuals are entitled to participate in any IEEE Computer Society activity free of discrimination, including harassment based on any of the above factors.
IEEE Event Conduct and Safety Statement
IEEE believes that science, technology, and engineering are fundamental human activities, for which openness, international collaboration, and the free flow of talent and ideas are essential. Its meetings, conferences, and other events seek to enable engaging, thought provoking conversations that support IEEE's core mission of advancing technology for humanity. Accordingly, IEEE is committed to providing a safe, productive, and welcoming environment to all participants, including staff and vendors, at IEEE-related events.
IEEE has no tolerance for discrimination, harassment, or bullying in any form at IEEE-related events. All participants have the right to pursue shared interests without harassment or discrimination in an environment that supports diversity and inclusion. Participants are expected to adhere to these principles and respect the rights of others.
IEEE seeks to provide a secure environment at its events. Participants should report any behavior inconsistent with the principles outlined here, to on site staff, security or venue personnel, or to eventconduct@ieee.org