Excursion & Welcome Reception ---------- Nov. 17th (Mon.)
One hour bus drive will visit Izumo Taisha (Izumo Grand Shrine) , one of Japan's most important and oldest shrines. Also, you can enjoy some local food such as Izumo Soba (a buckwheat noodle) around the shrine. After the excursion, Welcome Reception will be held at Shimane Winery(Japanese Web site), located close to Izumo Shrine. The meals and drinks (including Shimane Beef and Shimane Wine) will be served in a buffet style.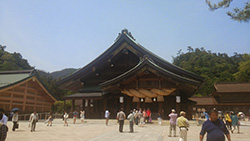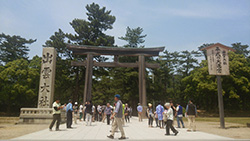 Banquet -------------------------------- Nov. 18th (Tue.)
The Banquet will be held at Yuushien Japanese Garden. A course meal will be served. Before the Banquet, you can walk through the Japanese garden and enjoy the view of autumn leaves, oleaceae, sasanqua and some other flowers.