Hotel information and registration
Conference Hotel
: Grand Hyatt San Francisco
Address
: 345 Stockton Street, San Francisco, CA 94108, USA
Tel
: +1 415 398 1234
Website
:
https://sanfrancisco.grand.hyatt.com
Transportation Centers
Cable Car on Powell Street and Post Street: 0.2 miles
Powell Street BART Station: 0.4 miles
San Francisco International Airport (SFO): 14 miles
Oakland International Airport (OAK): 20 miles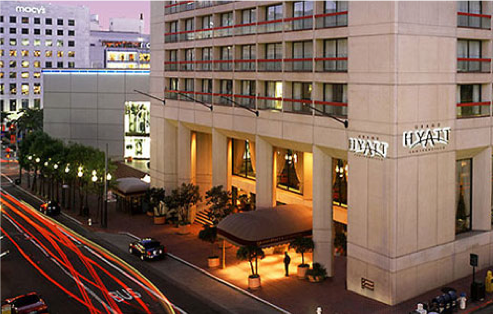 Reservations
Make YOUR Hotel Reservations for the IEEE SERVICES 2018 Conference NOW!
Reserve your room at the Grand Hyatt San Francisco Hotel at the IEEE SERVICES 2018 discounted rate ($179.00 USD plus California Tourism Fee of $1.00 plus 16.25% tax) now while space is still available!
Please, use the link below to make your reservation:
https://aws.passkey.com/go/IEEECS2018
All hotel reservations must be made by June 5, 2018 at 5:00 p.m. Pacific time.
Why Stay at a Conference Hotel?
You will be in the center of conference activity, that's why! You will be able to network easily with other conference attendees. You will have a better conference experience overall. But there are other reasons that you need to consider before you look at a hotel outside the official SERVICES 2018 room block.
The conference staff have taken their role of finding a conference site very seriously. They have looked at a number of locations and evaluated the needs of attendees as well as the need for conference meeting space. Based on a guaranteed percentage of attendees staying in official conference hotels, the hotels provide discounted group rates from their normal charges.
CONTACT INFORMATION
If you have any questions or queries on IEEE SERVICES 2018, please send email to: ieeecs DOT services AT gmail DOT com.